Today I'm joining Shay and Erika for their monthly Workin' it Wednesday post and talking about my New Year's goals...
So who else is like me? You make New Year's Resolutions every year and then they slowly fizzle out not long after the year starts? Yep, you know it's true. There's no use in denying it.
Oh and P.S. I feel like I'm speaking into a mirror right now and am totally talking to myself here. I'm so bad about this.
Anywho, on to my goals...
I had my all of my goals already picked out, and I had even started this post ahead of time, leaving it in draft mode 'til time for the link-up today. But then, I read this Family Share article and thought... Hey, picking one word for the year's a good idea. I'll do that.
But then the thought of picking only one word didn't necessarily work out. So instead...
I've a list of 5 words to focus on this year.
1. JOY
My goal is to share a bit more of the things that bring me joy each week. Sometimes they're big things. And other times, they're seemingly small things. No matter the size, I want to focus more on these and less on the opposite. I'm going to start focusing on these each Friday as part of the
Friday Favorites
link-up hosted by
Andrea
,
Erika
, and
Narci
. I figure by doing that, it'll give me a bit of accountability in mastering this goal word.
2. MOVE
2017 is the year that Elisabeth gets her tail in gear. I'm finally using the Fitbit I treated myself to this past summer. I'm exercising. I'm eating better. I'mdrinking more water and I'm drinking less cokes. I'm not saying I'm perfect at those things... But overall, I'm definitely doing better. And I've given myself a long term (one year long) goal and then broken that longer goal into a few short term goals too. Because, after all, it's all about boosting my ego. Right? :) Kidding...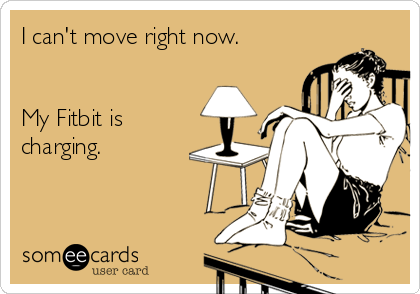 I'm totally kidding with this meme, but it's still funny ;)

3. WRITE
I love to write! I love updating my blog, sending handwritten cards/notes/letters, journaling, etc. A little over a month I started back journaling on a regular (almost every day) basis and am really enjoying it. And I have a few writing projects I'm working on too...one for work, one for my own classes (as a student), and even one for fun. So yes... I see this being the year when I do quite a bit of writing.
4. READ
I love to read. I do. But I rarely read "for fun" anymore. I read for ministry and teaching purposes. I read for my licensing classes. But to just curl up with a book and read for fun... That just doesn't happen much unless there's a school holiday or a huge chunk of time available (hello weekends!). But I want to change that. I have time each night to browse Facebook, catch up on blog reading, and even play Angry Birds. So then, why not read? That's why I've already started making myself read a little bit each night before bed. And I've even gotten to the point where it's become almost second nature to pick up a book when I first get home - mostly to help with #6 (see below) in resting/relaxing - but hey... At least it's helping me get in the habit of reading more "for fun." I'll try to do better about recapping what I read on here this time around too. ...if for no other reason than to help my often forgetful mind to remember what books I read this year :)
5. REST
This one is kind of two-fold. On the one hand, I have a tendency to go, go, go all the time. I love my days off. But when they get here, I can almost always be found with my computer out, doing work. I rarely am 100% "off." I also have a tendency to struggle saying "no," feeling immense guilt if I do. And in reality, I add far more onto my already full plate adding to the stress in my life. So my goal this year is to take part of my off days (Sat. and Sun.) and REST. Take the time to relax and recharge, hang out with friends, have fun. I'll also work harder at not saying "yes" to so much that I add undue stress on myself :)
And then the other side of this is... RESTING in God. I have already gotten off to a good start with this, starting a new devotional. And I have also changed up my morning and my evening "quiet time" routines (the times that I spend with just me and God and His Word) a bit. And y'all... I love it. In fact, I will probably be writing a blog post on it pretty soon. But to wrap this up, I wil say this... Resting in the Lord is so incredibly important. I know that. But I truly do want 2017 to be the year that I improve in this area.
So those are my 5 words for 2017. I'm planning to write a post each month, sharing the good and the bad, as 1) an update on how I'm doing in following this list and 2) as a form of accountability. If I know others (again... Hi Mom) are reading it, then I'm so much more likely to continue. Crazy? Perhaps. But hey... How boring would life be if we didn't have at least a little crazy? :)